The comprehensive admissions process begins with an online application, then progresses to in-person assessments and interviews with candidates (and caregivers) who advance to the next round. Automatic enrollment is not a guarantee, and space is limited. The SCALE Program does not maintain a waitlist.
Our online application portal is typically open for a two-week period once per year. This is the only time during which the SCALE Program can accept new applications for participation. The next admissions cycle dates are yet to be determined. Please click here to request to join our email distribution list for notification regarding the next admission cycle. 
Details can be found on the SCALE Application Process document, which is subject to change based on multiple evolving factors.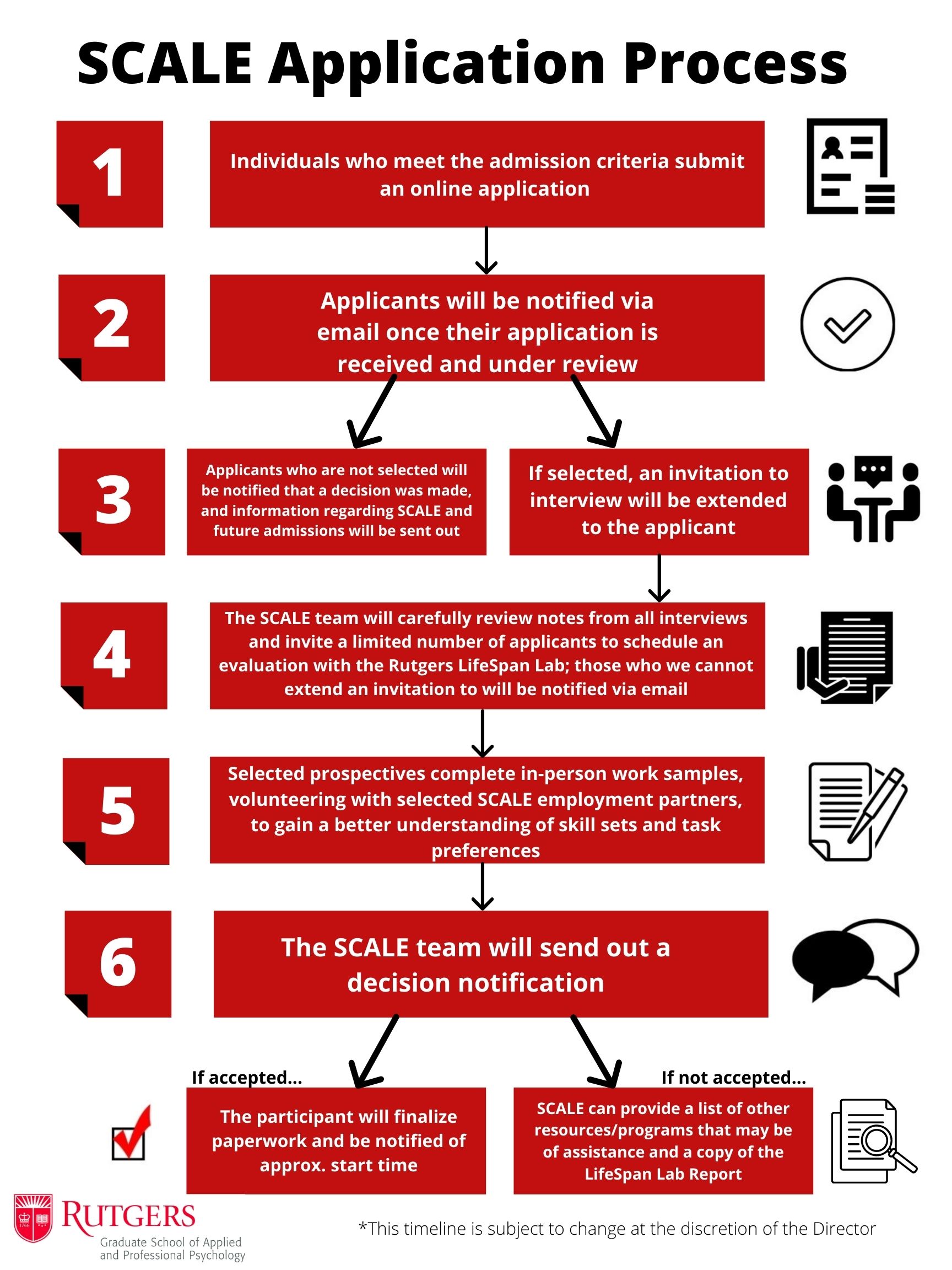 SCALE admissions criteria includes:
A primary diagnosis of Autism Spectrum Disorder
Approval to participate in the NJDDD Supports Program or Community Care Program
A desire and capacity for community-based employment
A minimum age of 21 years is required to begin the program
We continue to receive a tremendous amount of inquiries about the limited number of applicants that we are able to accept each year. We are honored that there is so much excitement for our services! We understand that there are not many programs like ours in existence and hope to change that absence worldwide with the work we do.
We encourage you to:
Important information
The RCAAS is an approved service provider within the NJDDD Supports Program and Community Care Program. Specific services provided by the RCAAS include: behavioral supports, career planning, community-based supports, community inclusion services, individual supports, natural supports training, prevocational training, and supported employment.
Individuals must be prepared to arrange for their own transportation to our Community Center and/or their place of employment in order to be considered for admission. The RCAAS can provide training on mass transportation usage or information, if needed.