The CSP requires an official ASD diagnosis from all applicants across the spectrum, including Asperger's Syndrome. While no longer officially recognized as a DSM diagnosis, we realize that many CSP applicants did receive this diagnosis in childhood. We also recognize that many applicants may have received a diagnosis early in life that does not reflect on a current Individualized Education Plan (IEP). The CSP acknowledges that autism is a lifelong developmental disability and although some symptoms may subside over time, the diagnosis is still applicable for CSP application purposes.
ENROLLMENT IS FULL FOR THE 2023-2024 ACADEMIC YEAR AND THE CSP ANTICIPATE VERY LIMITED AVAILABLE SPOTS TO OPEN. 
Access the application here: CSP 2023-2024 Application.
RU Undergraduate Admissions
For questions related to Rutgers' undergraduate admissions process, and to apply to the University, visit  https://admissions.rutgers.edu/apply-rutgers. The CSP application and admissions process is separate from Rutgers University's undergraduate admissions process; automatic enrollment is not a guarantee. The CSP fee of $7000 per academic year, payable in two-semester increments, is in addition to Rutgers University tuition costs and student fees.
You may submit a CSP application at any time; however, confirmed admittance to Rutgers University is required prior to proceeding with the next steps in the CSP process. We will begin interviewing prospective CSP students in accordance with Rutgers University's undergraduate admissions timeline. For example, if you are accepted to Rutgers with an Early Action decision, you may then begin the early admissions process with CSP. Click here for Rutgers University's admissions decision dates.
Please note: Responses/communication from the CSP Team will come from the email address csp-info@rutgers.edu.
View-Only Applications: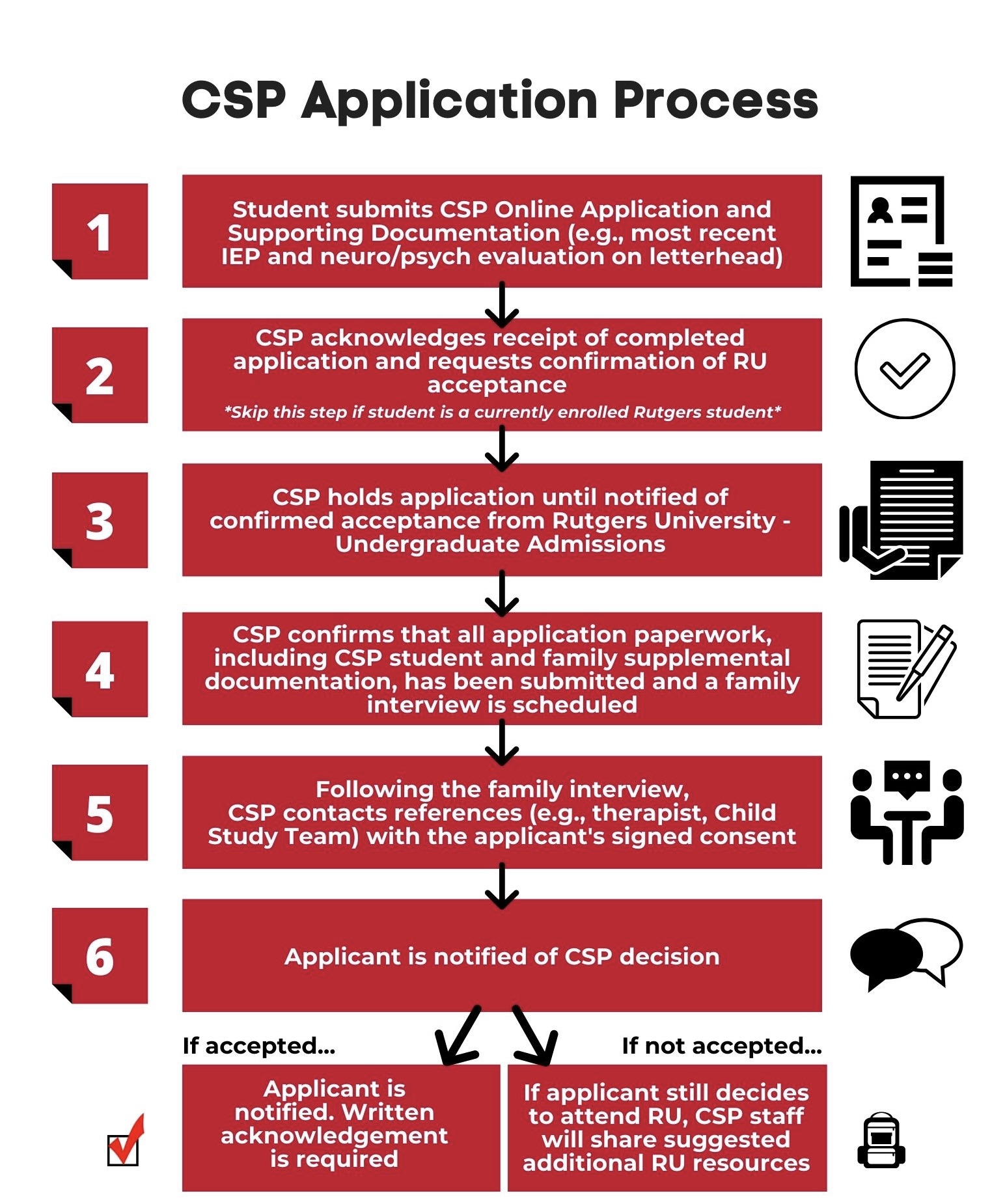 In order for CSP Coordinators to make an informed admittance decision, the CSP requires:
A College Support Program (CSP) online application
CSP student and family supplemental documentation
A family interview, virtual until further notice
Written (digital) consent for CSP to contact references provided
A possible assessment with the RCAAS-Psychological Services Clinic (PSC)